We've created a few cards this week...by we, I mean Bethany has started her own creative enterprise. This first one is for Daddy. With the guidance of CTMH Originals card designs, she made this card. She chose the color combination Breeze, orange and clover meadow (CTMH) (something I don't think I would have even put together, but it looks GREAT!) and asked to play with my newest toy...the cuttlebug, of course. (I found it cheap at Creative Express.) She stamped it (CTMH Birthday bash, and Papertrey's Mixed Messages) and assembled. Great job...
The second one was inspired by Nicole Heady's blog...simple but pretty! I used the stamp set Star Struck by CTMH.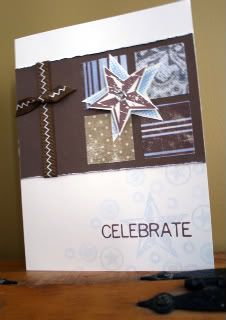 The last was a sympathy card for a friend of our family who lost her dad. Sweet Flowers Stamp set was used...one of my all-time favorites. I used a cuttlebug embossing folder and Anna Griffin papers. Also it uses Papertrey's Out on a limb stamp set for the greeting. The purples didn't turn out well in the picture, but in person they actually all match.